We offer fully managed Custom eCommerce development services that can help your business achieve its goals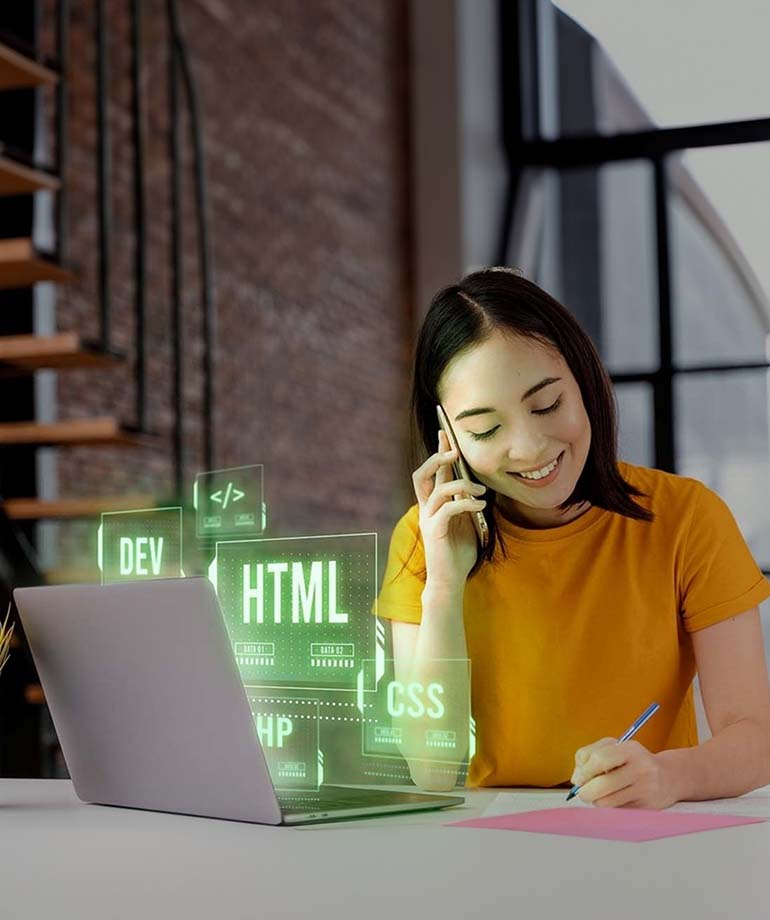 Elevate Your Industry with Tailor-Made Web Design Solutions
Unleash the Power of Customization
Our custom web design services are tailor-made to cater to the unique needs of various industries. We believe that every industry has its own set of requirements, and we pride ourselves on creating visually stunning and user-friendly websites that capture the essence of each business. 
Whether you're in the fashion industry, hospitality sector, or technology field, our creative team will work closely with you to understand your brand identity and goals. By combining our expertise in design and industry knowledge, we will craft a website that not only stands out but also resonates with your target audience. Get ready to elevate your online presence and make a lasting impression with our industry-specific custom web design solutions.
Explore our portfolio and embark on a journey through a captivating realm of digital wonders, where each project is a testament to our magical ability to turn visions into reality, leaving clients spellbound and audiences mesmerised.
Engage, connect, and grow with Oreezo on social platforms. Amplify your voice in the digital realm with us.
Oreezo welcomes you to the forefront of innovation. Your journey with us starts here.
Reasons to develop custom eCommerce website for your business
Our custom e-commerce websites are unique shopping stores that are tailored to meet specific business needs which offers several features set them apart from standard e-commerce platforms. Some key features of custom e-commerce retail store include:

With custom web design, your website will stand out from the crowd. Say goodbye to generic templates and hello to a website that represents your business in a memorable and engaging way.

From intuitive navigation to personalized features, your website will cater to the specific needs and preferences of your target audience, enhancing their satisfaction and engagement.

Brand Identity Reinforcement
Your website is an extension of your brand. With custom web design, we integrate your brand identity throughout the website, reinforcing your unique selling propositions and values.

Scalability and Flexibility
As your business grows and evolves, your website should be able to keep up. Custom web design provides the flexibility and scalability you need to adapt to changing market trends and business requirements.
Let's build your next digital adventure
Ready to take your business to the next level? Our eCommerce web development services can help! We'll work with you to create a custom website that is perfect for your products and customers.
3 Banner Designs
5 Stock Photos
Up to 5 Pages Website
Free Google Friendly Site Map
48 to 72 Hours TAT
Facebook Page Design
Instagram Page Design
Linkedin Page Design
100% Satisfaction Guarantee
100% Unique Design Guarantee
Mobile Responsive
Backend Dashboard With Complete CMS
Social Media Integration
Up To 15 Unique Pages Website
Conceptual And Dynamic Website
Mobile Responsive
Online Reservation/Appointment Tool (Optional)
Online Payment Integration (Optional)
Custom Forms
Lead Capturing Forms (Optional)
Striking Hover Effects
Newsletter Subscription (Optional)
Newsfeed Integration
Social Media Integration
5 Stock Photos
3 Unique Banner Design
48 to 72 Hours TAT
Facebook Page Design
Instagram Page Design
Linkedin Page Design
100% Satisfaction Guarantee
100% Unique Design Guarantee
15 to 20 Pages Website
Custom Made, Interactive, Dynamic & Premium Design
Custom Wp (or) Custom Php Development
Up to 10 Custom Made Banner Designs
10 Stock Images
Unlimited Revisions
Special Hoover Effects
Content Management System (CMS)
Online Appointment/Scheduling/Online Ordering Integration (Optional)
Online Payment Integration (Optional)
Multi-lingual (Optional)
Custom Dynamic Forms (Optional)
Signup Area (For Newsletters, Offers, etc.)
Search Bar
Live Feeds Of Social Networks Integration (Optional)
Mobile Responsive
Free 5 Years Domain Name
Free Google Friendly Sitemap
Industry Specified Team Of Expert Designers And Developers
Dedicated Accounts Manager
Facebook Page Design
Instagram Page Design
Linkedin Page Design
100% Ownership Rights
100% Satisfaction Guarantee
100% Unique Design Guarantee